INTRODUCTION:-

NORMALLY THE TWO VISUAL AXES MEET AT THE POINT OF REGARD OR THE OBJECTS OF ATTENTON. THE EYES ARE SAID TO BE IN ALIGNMENT.
Due to some reason the two visuals axes may not be aligned to the point of regard, result in strabismus or squint. So, binocular vision which is an asset with normal alignment of two eyes, becomes a liability.
RETINAL POINTS:-
Every retinal points has a partner is fellow retinal with which it shares relatives subjective visual direction.
Thus image on these corresponding points are perceived as binocularly single, and those on disparate points as binocularly double.
RETINAL CORRESPONDENCE:-
Retinal elements of the two eyes that share a common subjective visual direction.
All other retinal elements are non-corresponding or disparate with respect to a given retinal element in the fellow eye for a particular visual direction.
Images from one object stimulate both cells, which transmit the information to the brain, permitting a single visual impression localized in the same direction in space.
Retinal correspondence is the inherent relationship between paired retinal visual cells in two eyes.
Specifically, the right nasal retina contains points that correspond to their counterpart in the left temporal retina & vice versa.
When stimulating of corresponding retinal points or areas produces single vision, normal retinal correspondence is said to be present.
When stimulating of non-corresponding retinal points produces single vision, anomalous retinal correspondence is present.
RETINAL CORRESPONDENCE CAN BE OF TWO TYPES:-
NORMAL RETINAL CORRESPONDANCE:- When both the fovea have a common visual direction and the retinal elements nasal to the fovea in one eye corresponds to the retinal elements temporal to the fovea in the other eye.

ABNORMAL RETINAL CORRESPONDENCE:-

when the fovea of one eye has a common visual direction with an extra-foveal area in the other eye.

Angle of squint is small and the extra-foveal point is close to the fovea- to regain the binocular advantage, although anomalous.

Under binocular conditions the fovea and the extra-foveal point share the common subjective visual direction.

When the normal eye is closed the extra-foveal element loses any advantage over the fovea of that eye, which retains its primary visual direction.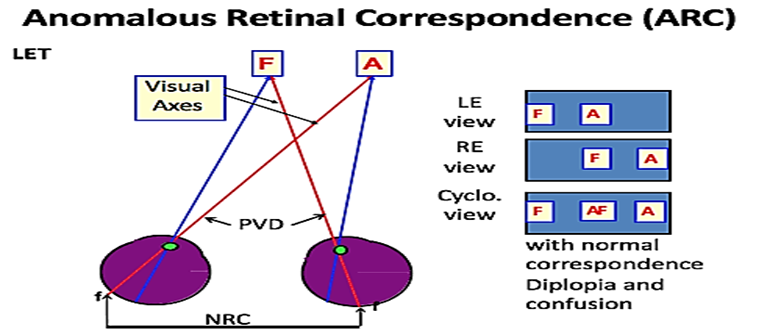 CONCEPT OF HOROPTER:-

If all corresponding points are projected in space at any particular distance they form an HOROPTER.

The term HOROPTER comes from the Greek words horos(boundary) and opter(observer). And introduced in 1613 by Aguilonius.

Its means, locus of all object points that are imaged on corresponding retinal elements at a given fixation distance.
GEOMETRIC VIETH MULLER HOROPTER:- As per this model of horopter if corresponding points have a regular horizontal distance from the retina, the horopter would be a circle passing through the center of rotation of the two eyes and the fixation point.

EMPIRICAL HOROPTER CURVE:- In actual practice, it is slightly flatter than veith muller horopter.
HERING-HILLEBRAND DEVIATION:-Due to both the nasal and optical factors, at any given
eccentricity the nasal hemi-retina contains more photoreceptors per unit area than temporal hemi-retina producing a deviation in horopter mapping in visual cortex.
PANUM'S FUSION AREA:-
It is the region in front and back of the horopter in which single vision is present.
Narrowest at the fixation point and becomes broader in the periphery.
All objects outside panum's area give rise to physiological diplopia.
Physiological diplopia:-
It exists in the presence of binocular vision.
Heteronymous diplopia:- when any one fixate on distance objects, near object becomes blur.
Homonymous diplopia:- when any one fixate on distance objects seems blur.
BINOCULAR VISION & SQUINT:-
When squint occurs the two fovea's view two different objects and send two different image to single cortical perceptual area. And this leads to CONFUSION.
However cortex immediately settles for one image with its strong cortical or retinal rivalry.
HOW DOES VISUAL SYSTEMS COPE?
To escape the disabling and troublesome situation created by diplopia and confusion, the strabismic pt. develop certain adaptations which allow them to have a comfortable single vision.
These sensory adaptations are:-Suppression.Abnormal retinal correspondence(ARC).
REQUIREMENTS FOR ARC:-
Early onset squint.
Constant angle of deviation.
Small angle squint.
Unilateral squint.
Variety of descriptive terms:-
Anomalous correspondence.
Anomalous projection.
False association fixation.
Positive secondary retinal correspondence.
False projection.
Retinal incongruity.
False macula.
Anomalous binocular junction.
CLASSIFICATION OF ARC:-
HARMONIOUS ARC:-
Angle of anomaly is equal to the objective angle of deviation(subjective angle=0).
This indicates that the ARC fully corresponds to the strabismus.
Provides a compensation for the angle of a squint.
Eliminate the awareness of diplopia and confusion.
UNHARMONIOUS ARC:-
Angle of anomaly is less than the objective angle of deviation(subjective angle not equal to 0).
PARADOXIAL ARC:-
When the angle of anomaly is greater than the objective angle of deviation.
It occurs mainly after overcorrection of squint surgery.
Signs and Symptoms of ARC:-
Eye turn.
Absence of diplopia (seeing two images of the same thing).
Avoidance of eye contact.
Avoidance of visually demanding tasks.
Better than expected performance on tasks requiring binocular vision.
Post-surgical increase in the angle of deviation.
TEST FOR RETINAL CORRESPONDENCE:-
The tests used can be based on either of two principles:-
ASSESMENT OF RELATIONSHIP BETWEEN THE FOVEA OF THE FIXING EYE AND THE RETINAL AREA STIMULATED IN THE SQUINTING EYE. THIS INCLUDES,
BAGOLINI'S STRIATED GLASSES TEST.
RED FILTER TEST.
SYNAPTOPHORE USING SMP SLIDES FOR MEASURING THE OBJECTIVE AND SUBJECTIVE ANGLES.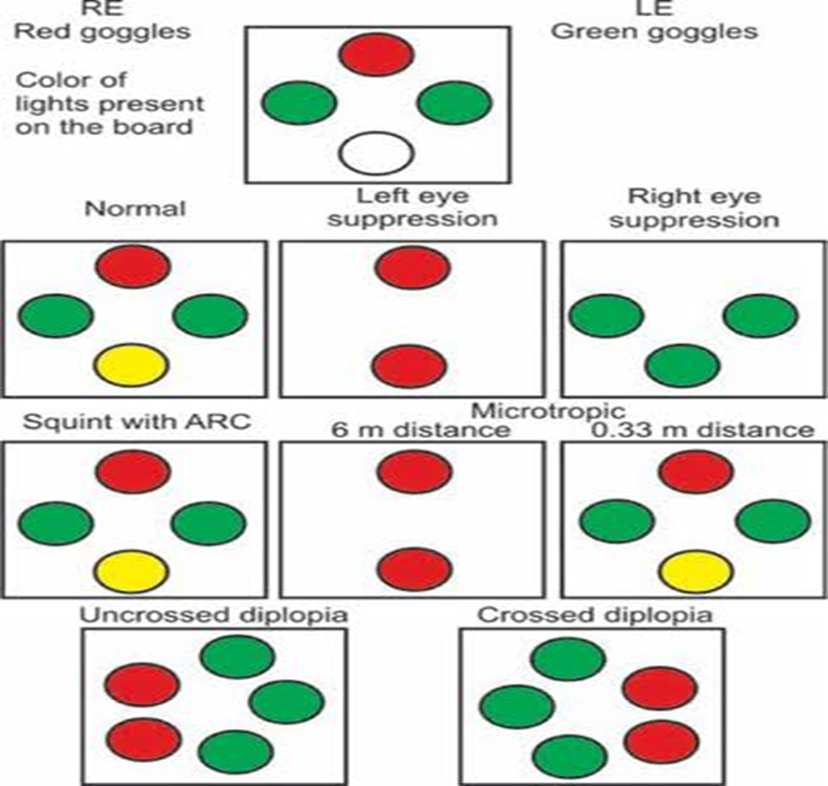 ASSESMENT OF THE VISUAL DIRECTIONS OF THE TWO FOVEAS. THIS INCLUDES,
AFTER IMAGES TEST(HERING BIELSCHOWSKY).
CUPPERS BINOCULAR VISUOSCOPY TEST(FOVEO-FOVEAL TEST OF CUPPERS).
DIAGNOSTIC TESTING METHODS OF ARC:-
Corneal reflex test.
Ophthalmoscopic methods/visuscope.
Bjerrum screen method.
After-image transfer test.
Haidingers brushes.
Maxwell's spots.
Projectoscope.
Euthyscope.
Past pointing test.
Angle kappa.
Neutral density filter.
Speed of accommodation.
MANAGEMENT FOR ARC:-
OCCLUSION- Preventive as well as curative measure.
Prolonged alternating occlusion is not recommended- prevent further development of ARC as well as normal correspondence.
Exercises with major amblyoscope:-
Stimulation of the foveal area.
Kinetic by retinal stimulation.