It is an artificial device placed on cornea for optical or therapeutic purpose. It's made of soft, flexible plastics that allow oxygen to pass through the cornea.
𝙎𝙤𝙛𝙩 𝘾𝙤𝙣𝙩𝙖𝙘𝙩 𝙇𝙚𝙣𝙨~𝙃𝙮𝙙𝙧𝙤𝙜𝙚𝙡𝙨
    • Soft contact lenses are made up of  HEMA (hydroxyethylmethacrylate). HEMA is hydrophilic. This hydrophilic nature is because of cross linked polymers with carbon to carbon backbone, to which are attached hydrophilic groups. It's refractive index 1.43.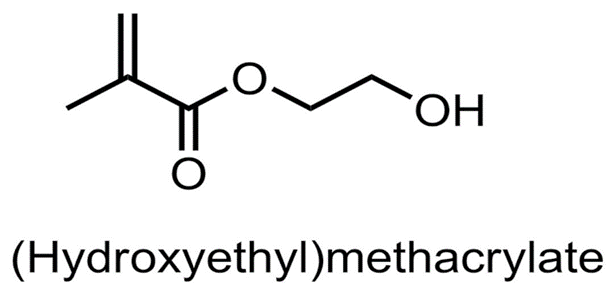 •PHEMA (poly- hydroxyethylmethacrylate) is still the basic lens material in use aa the soft lens material.
•Physical properties of this lens material-
I) Water content – ▪ 38 to 80%
▪ <40% low water content lenses.
▪ >55% high water content lenses.
▪ 40 to 55% mid water content lenses.
II) Elasticity – The soft contact lens material has to be elastic so that it can survive the repeated stress of insertion and removal. It should recover it's shape very rapidly after stress.
III) Ionicity – Two groups based on iconicity- (a) Ionic, (b) Non- ionic
• Several conpounds are added to hydrogens to improve it's properties like wettability, water content, oxygen permeability on ionicity.
The compounds are-
PVP– polyvinylpyrrolidone.
MA- methacrylic acid.
MMA- methyl methacrylate.
GMA- glyceryl methacrylate.
DAA- diacetone acrylamide.
PVA- polyvinyl alcohol.
𝙎𝙤𝙛𝙩 𝙘𝙤𝙣𝙩𝙖𝙘𝙩 𝙡𝙚𝙣𝙨 𝙙𝙚𝙨𝙞𝙜𝙣
The design of soft contact lens depends upon the following parameters of a soft contact lens.
a) Diameter – Average size 9.2 to 9.4mm.
b) Thickness.
c) Curvature – Front and back with thin flexible lenses design almost irrelevant.
Back surface design –
I. Monocurve – Usually are not made in monocurve designs.
    II. Bicurve – It is common, an central optic zone design and one peripheral curve(0.8 to 1mm flatter) .                            III. Multicurve – lenses which have many curves, flexible lenses don't need a multicurve design.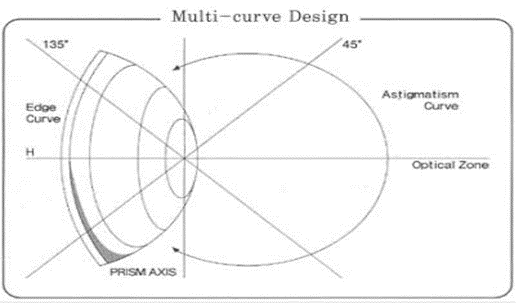 IV. Aspheric – Shapes cornea better, fewer base curves need to be made with aspheric back curve design, it is difficult to manufacture.
Front surface design –
Front surface design contains the front optic zone depends upon the power. The front surface design varies in bifocals/ multifocals.
Edge of soft contact lens – The edge has a little effect than rigid lenses as it is mostly under the lid. Yet, thick is less comfortable and a very thin lens edge cause mechanical cutting.
Manufacturing technique and design – There are three main techniques of soft contact lens manufacturing, different techniques create different designs like~
A soft contact lens made with lathe is used to make simple designs.
The spin technique creates simple back surface designs.
𝙏𝙮𝙥𝙚𝙨 𝙤𝙛 𝙎𝙤𝙛𝙩 𝘾𝙤𝙣𝙩𝙖𝙘𝙩 𝙇𝙚𝙣𝙨-
𝙄. 𝙎𝙥𝙝𝙚𝙧𝙞𝙘𝙖𝙡 – A spherical soft contact lens bends light evenly in every direction(horizontally, vertically etc) . They are typically used to correct myopia and hyperopia.
𝙄𝙄. 𝘼𝙨𝙥𝙝𝙚𝙧𝙞𝙘 – Aspheric soft contact lens have different interaction between the lens and light entering the eye and make a clearer image, have varying curvatures across the surface, changing from the edge to the center of the lens.
𝙄𝙄𝙄. 𝙏𝙤𝙧𝙞𝙘 –
•Correct for astigmatism,
•More expensive than spherical,
•Marks or etching for fitting,
•Different focusing power horizontally/ vertically.
𝙄𝙑. 𝙈𝙪𝙡𝙩𝙞𝙛𝙤𝙘𝙖𝙡 –
•Can have dual focus lenses.
•More expensive.
                          •Available in disposable. 
𝙎𝙚𝙡𝙚𝙘𝙩𝙞𝙣𝙜 𝙩𝙝𝙚 𝙥𝙖𝙩𝙞𝙚𝙣𝙩 𝙛𝙤𝙧 𝙩𝙝𝙚 𝙨𝙤𝙛𝙩 𝙘𝙤𝙣𝙩𝙖𝙘𝙩 𝙡𝙚𝙣𝙨-
Optical – Anisotropia, unilateral aphakia, high myopia, keratoconus, irregular astigmatism.
Therapeutic – corneal or iris abnormalities, glaucoma, amblyopia, bandage soft contact lens for post keratoplasty, dry eye syndrome.
Diagnostic – Electro-retinography, Funduscopy, Gonioscopy.
Cosmetic – Corneal scars, Cosmetic scleral lenses in phthisis bulbi, ptosis.
Preventive – Prevention of symblepharon and restoration of fornices in chemical burns, exposure keratitis, trichiasis.
Occupational – Sportsman, pilots, actor, actress.
𝘼𝙙𝙫𝙖𝙣𝙩𝙖𝙜𝙚 𝙤𝙛 𝙎𝙤𝙛𝙩 𝙘𝙤𝙣𝙩𝙖𝙘𝙩 𝙡𝙚𝙣𝙨
• Being soft and oxygen permeable, they are most comfortable and so well tolerated.
• It can be used both day and night.
• Decreases reflex tearing.
• Easier fitting.
• Change the colour of the eye.
• Less chance of the lens being 𝘥𝘪𝘴𝘭𝘰𝘥𝘨𝘦𝘥.
𝘿𝙞𝙨𝙖𝙙𝙫𝙖𝙣𝙩𝙖𝙜𝙚 𝙤𝙛 𝙎𝙤𝙛𝙩 𝙘𝙤𝙣𝙩𝙖𝙘𝙩 𝙡𝙚𝙣𝙨
• Reduced VA ( visual acuity) if astigmatism remain uncorrected.
• Cleaning and maintenance of the lenses are difficult .
• More delicate, more easily damaged and gave a shorter life.
• Lower rate of oxygen transmission.
• More chances of control infection.
• More binding of 𝘥𝘦𝘱𝘰𝘴𝘪𝘵𝘴.
𝘾𝙤𝙢𝙥𝙡𝙞𝙘𝙖𝙩𝙞𝙤𝙣𝙨
• Corneal dystrophies.
• Dry eye syndrome.
• Oedema.
• Neovasc.ularization.
   • Chronic dacryocystitis.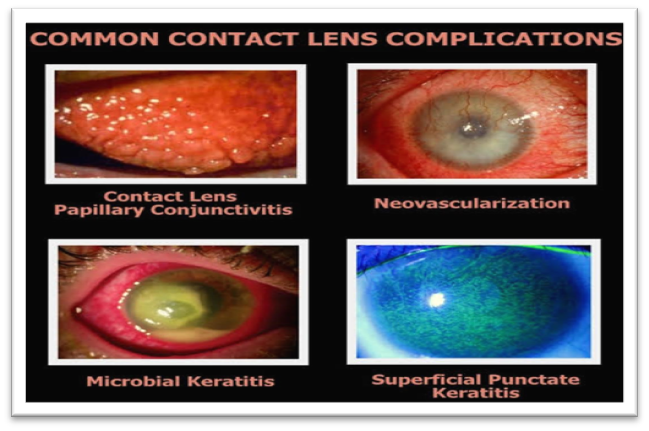 • Chronic blepharitis.
• Chronic conjunctivitis.
• Recurrent diseases like episcleritis, scleritis and iridocyclitis.
𝙁𝙞𝙩𝙩𝙞𝙣𝙜 𝙤𝙛 𝙨𝙤𝙛𝙩 𝙘𝙤𝙣𝙩𝙖𝙘𝙩 𝙡𝙚𝙣𝙨
Successful fitting involves complete set of parameters. The parameters are –
️Diameter – It is the 3rd basic parameter of the soft contact lens. Typical soft contact lens diameters range from 13 to 14.5 mm. Smaller corneas may need smaller diameters.
️Base curve – It is chosen on the basis of the keratometry. Base curves range from 8.1 to 9.1mm.
️Power – Lens should have selected as close as possible to the spectacle power. Before fitting we must have to know that the power is cylindrical or spherical.
𝙄𝙣𝙨𝙚𝙧𝙩𝙞𝙤𝙣 𝙏𝙚𝙘𝙝𝙣𝙞𝙦𝙪𝙚
Pull up the upper lid and pull down the lower lid.
Place lens directly on the cornea/ place lens looking upwards/ place lens looking inwards. 

𝙍𝙚𝙢𝙤𝙫𝙖𝙡 𝙏𝙚𝙘𝙝𝙣𝙞𝙦𝙪𝙚
Pull up the upper lid and pull down the lower lid.
Slidely lens down and out onto the sclera.
𝘾𝙡𝙚𝙖𝙣𝙞𝙣𝙜 𝙖𝙣𝙙 𝙙𝙞𝙨𝙞𝙣𝙛𝙚𝙘𝙩𝙞𝙤𝙣 𝙏𝙚𝙘𝙝𝙣𝙞𝙦𝙪𝙚
𝙲𝚕𝚎𝚊𝚗 – Clean the lens surface by rubbing two drops of surfactant cleaner.
𝚁𝚒𝚗𝚜𝚎 – Ribse off the cleaning solution with saline.
𝚂𝚘𝚊𝚔𝚒𝚗𝚐 𝚊𝚗𝚍 𝙳𝚒𝚜𝚒𝚗𝚏𝚎𝚌𝚝𝚊𝚗𝚝 – in fresh solution overnight.
𝚁𝚒𝚗𝚜𝚎 – rinse off with saline before insertion.
𝙉𝙚𝙫𝙚𝙧 𝙪𝙨𝙚 𝙬𝙖𝙩𝙚𝙧 𝙛𝙤𝙧 𝙧𝙞𝙣𝙨𝙞𝙣𝙜 𝙤𝙛𝙛 𝙩𝙝𝙚 𝙨𝙤𝙛𝙩 𝙘𝙤𝙣𝙩𝙖𝙘𝙩 𝙡𝙚𝙣𝙨.