DEFINITION OF LOW VISION (WHO- World Health Organization):
A person with low vision is one who has impairment of visual functioning even after treatment of an operation and standard refractive correction and has a visual acuity of less than 6/18 to light perception or a visual field of less than 10 degree from the point of fixation but who uses or is potentially able to use vision of the planning and execution of a task.
VISUAL IMPAIRMENT:
PARTIAL BLIND [6/24 TO 6/60]

LOW VISION [<6/18 TO PL ]

SUBNORMAL [ 6/18 TO PL]
WHO(World Health Organization) CLASSIFICATION DEFINES LOW VISION AS CORRESPONDING TO:
VA of less than 6/18 but equal to or better than 3/60.

Corresponding VA less to less than 20 degree in the better eye with best possible correction .
LOW VISION :
The best corrected VA in the better eye less than 6/18 and the vision field less than 20 degree from the point of fixation.
VISION IMPAIRMENT:
Refers to condition with decreased VA from blindness to partial sight.
PARTIAL BLINDNESS:
THE BEST CORRECTED VISION ACUITY IN THE BETTER EYE LESS THAN 3/60 0R VISUAL FIELD LESS THAN 10 DEGREE FROM THE POINT OF FIXATION.
COMPLETE BLINDNESS :
It is defined as no usable vision with exception of light perception.
FUNCTIONAL EFFECT OF LOW VISION:
Loss of central vision.

Loss of peripheral vision.

Glare and contrast.
GRADES OF VISUAL IMPAIRMENT:
Category of visual Impairment (low vision)
Visual acuity with best possible correction (Maximum less than the)
Minimum equal to or better

0

6/6  (Normal)

6/18

1

6/18 (Visual impairment)

6/60

2

6/60 (severe visual impairment)

3/60- CF at 3m

3

3/60 – CF at 3 m (Partial blind)

1/60-CF at 1m

4

1/60 – CF at

1 m  (Blind)

Light perception(PL)

5

No PL (Total blind)

————–
MAIN CAUSES OF BLINDNESS IN 50+ POPULATIONS ARE AS FOLLOWS:
CATARACT – 62.6%

REFRACTIVE ERRORS-19.7%

CORNEAL BLINDNESS- 0.9%

GLAUCOMA– 5.8%

SURGICAL COMPLICATION- 1.2%

POSTERIOR SEGMENT DISORDERS- 4.7%

OTHERS-5.0%
LOW VISION HISTORY:
DEMOGRAPHIC DATA:

NAME

AGE 

SEX

OCCUPATION

HOBBIES
GENERAL HISTORY:

OH (ocular history)

FGH (family general history)

FOH (family ocular history)

AH (allergy history)
FAMILY DATA:

Count of family members

Who take care the patient

How to manage his\her daily work, who helped?

Is there is any attender or nurse is there or not?

DIAGNOSIS DISEASE.

HISTORY OF DISORDER.

CHIEF VISUAL COMPLAIN :

DISTANCE VISION PROBLEM-

Black board

Seeing face

Watching TV

Shop name

Outdoor – Bus number

NEAR VISION PROBLEM-

Near work \reading

Note recognition

LIGHTING ILLUMINATION :

Dim light 

Bright light

Fluroscent tube

Bulb

Is there any problem in sunlight or not?

WRITING TASK- Signature

MOBILITY PROBLEM:

How do able to walk? If the answer is yes -then how to walk ,how to manage his\her daily work.
And if the answer is no-then asked the patient that who helped his\her daily work.
GLARE PROBLEM:

Yes or No.

COLOUR PERCEPTION:
Ask the patient the he or she is able to identified different colours or not?
LIVING SKILLS:

Food identification

Coin and note identification

Face identification

Dress identication.
HOW TO PREVENT LOW VISION?
   Try the 20-20-20 rule:
Every 20 minutes, look away about 20 feet in front of you for 20 seconds.This short exercise can help reduce eyestrain. Clean your hands and your contact lenses-properly. To avoid the risk of infection, always wash your hands thoroughly before putting in or taking out your contact lenses.
NOTE: low vision is vision loss that cannot be corrected with glsasses , contact lens and surgery. It isn't blindness as limited sight remains.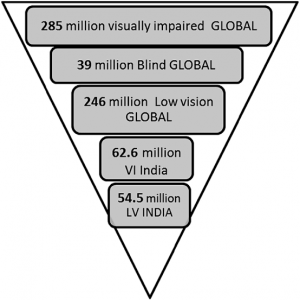 MAGNITUDE OF LOW VISION
CURRENT BLINDNESS AND LOW VISION DATA(WHO):
Number of visual impairment around the world:180 million
Number of blind among these:45 million
Number with no perception of light vision:9 million
These with some residual vision :180-9=171 millions.
OF THESE 171 MILLIONS:
Number with vision from more than PL to 3/60: 36 million
Number with vision from 3/60 to 6/18: 135 million
Number who can benefit from treatment (e.g. cataract surgery):103 million
Residual who are true low vision patients: 68 million
Total number of visually impaired :180 million
Number of blind: 45 million
Number of low vision: 135 million
ADULTS VS CHILDREN
Number of blind children out of 45 million blind: 1.5 million
1.5 million worldwide (Foster and Gilbert, 1992)

1 million in Asia (WHO ,1992)

0.25 million in India (Dandona et al Arch Ophthalmol 1998)

Total number of low vision patients: 135 million 

Number of low vision children: 7 million
Read Our Articles :